Alternative Varicose Vein Laser Treatments
Varicose veins are the bulging veins on the legs. Varicose vein treatment in Houston no longer requires varicose vein surgery in the hospital. Our pictures below show the results of laser treatment for varicose veins which is performed in the office instead of the stripping procedure.
The new treatment for varicose vein disease for women and men involve Endovenous Laser Ablation, or ELT, which can provide cure without the need for varicose vein removal. This varicose vein surgery corrects the varicose vein caused by the correction of the abnormal reverse blood flow in the leg when standing. Laser surgery on varicose vein disease actually improves the circulation in the leg, without the need for general anesthesia.
Our varicose vein clinic in Houston provides the alternative treatment of varicose vein disease using the safest and most long lasting techniques. A complement to the laser procedure, Microphlebectomy, is a surgical procedure which removes the unsightly bulging veins through very small openings. The procedure may be combined with the ELT and does not require general anesthesia. As a result, the operation is safer and prevents the side effects of dizziness and nausea. Furthermore, scars are eliminated. Patients can drive home and resume normal activities immediately after the procedure.
With the ELT procedure and its counterpart, Microphlebectomy, becoming the standard for the effective treatment of varicose veins, more people who suffer from this common malady will be rid of the pain and embarrassment associated with them.
The Evaluation
During the initial consultation, Dr. Skellenger will discuss the symptoms of varicose veins and perform ultrasound examination of the lower limb varicose veins to identify each any abnormal circulation. This diagnostic test enables Dr. Skellenger to choose the varicose vein treatment which will give the best results possible.
Varicose Vein Pre-Treatment Instructions
Do not use aspirin or other blood thinners such as Advil, Ibuprofen, or Alleve for five days before treatment
Antibiotics will be prescribed
A sedative may be prescribed
Varicose Vein Post-Treatment Instructions
Compression dressing will be in place initially
Normal activities can be resumed immediately
Exercise programs can be resumed after one week
Advil, not narcotics, are all that is required to lessen discomfort after the procedure
Cosmetic Vein Centers of Texas
201 Blossom Street
Suite D
Webster, TX 77598

Phone: 281-990-VEIN (8346)
Fax: 281-990-9984

---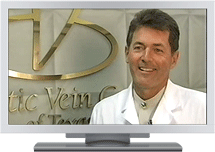 Informational Videos