Treatment & Laser Removal of Spider Veins
Easily visible through the skin and commonly appearing on the thighs, calves, ankles, and face, spider veins are small swollen blood vessels that appear red, purple, or blue in color. They are caused by a number of factors: obesity, hormones, heredity, pregnancy, to name a few.
We use the most advanced spider vein treatment, a laser spider vein removal – that works like an eraser. A spider vein on the legs or spider veins on the nose or face will disappear with these treatments.
For an effective and long-lasting removal, spider vein prevention is discussed and alternative spider vein remedies are available at our specialty vein clinic in Houston.
Spider Vein Pre Treatment Instructions
Do not apply lotion on your legs or face before treatment
Bring a pair of shorts for the treatment
Compression hose will be fitted after the treatment in patient's needing compression therapy
Do not tan for two weeks before treatment
Spider Vein Post Treatment Instructions
Compression hose will be worn for four days if needed
Return in one month for follow up
Cosmetic Vein Centers of Texas
201 Blossom Street
Suite D
Webster, TX 77598

Phone: 281-990-VEIN (8346)
Fax: 281-990-9984

---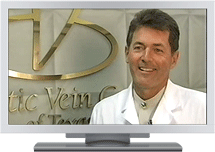 Informational Videos