Texas Vascular Surgeon Provides Cosmetic Treatment in the Bay Area
Texas Vascular Surgeon Dr. Mark Skellenger provides the exceptional variety of cosmetic treatment services in Houston's Bay Area. To schedule an appointment please call 281-990-VEIN (8346) to speak with a member of our friendly, knowledgeable medical staff who will be happy to assist you today!
Since 1983, Dr. Skellenger has been treating vascular diseases and continues to both effectively utilize the latest technologies to help his patients, as well as to maintain a focus on ensuring the highest level of comfort is provided each patient he serves.
As you view the many pages of this cosmetic treatment center website, you will find a wide range of services provided to increase the comfort and confidence levels of individuals receiving cosmetic treatments in the Bay Area.
You will also find information on the ways Dr. Skellenger has played an instrumental role in developing procedures that decrease recovery time requirements, allowing individuals to maintain their active lifestyles without fear of a cosmetic procedure creating a large disruption in their life.
Advanced Venous Disease Treatments in Houston
The advanced technology used to provide cosmetic care has also increased the safety of each procedure as general anesthesia requirements have been replaced with local anesthesia, minimizing the invasiveness of each procedure for treating venous disease.
Bay Area cosmetic treatment provided by the Texas Vascular Surgeon at Cosmetic Vein Centers of Texas includes the following list of services:
Spider Vein Treatment
Endovenous Laser Ablation
Microphlebectomy
Facial Line Reduction
Prescription Skin Care Treatments
Skin Elasticity Improvement
Vertical Lip Line Reduction
Rosacea Treatment
Age Spot Removal
Wrinkle Correction
Please call 281-990-VEIN (8346) to schedule your appointment for cosmetic treatment with Houston Vascular Surgeon Dr. Skellenger at Cosmetic Vein Centers of Texas located at 201 Blossom Street, Suite D, Webster, TX 77598.
We appreciate your time in reviewing our venous disease clinic and cosmetic center website and look forward to assisting you with any of your specific questions or concerns soon!
Cosmetic Vein Centers of Texas
201 Blossom Street
Suite D
Webster, TX 77598

Phone: 281-990-VEIN (8346)
Fax: 281-990-9984

---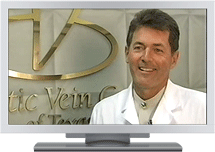 Informational Videos