Spider Veins Disappear in Houston
Spider veins disappear in Houston with outpatient treatment at Clear Lake's premier vein clinic, Cosmetic Vein Centers of Texas. The collection of reddish, bluish and/or purplish veins on the nose, cheeks, chin and legs, or anywhere on the body are called spider veins and are now a thing of the past through much more convenient methods than previously existed for victims of spider vein disease.
Call the renowned vascular surgeon, Dr. Mark Skellenger at Cosmetic Vein Centers of Texas at (281) 990-VEIN (8346) to schedule an appointment and learn more about how you can be freed from the many ways spider veins negatively affect your life.
No longer is an uncomfortable hospital stay necessary. You also no longer need to experience any of the potentially harmful side effects of being placed under general anesthesia. Dr. Skellenger has been involved in the revolutionizing of treatment for venous diseases and is conveniently located off of Bay Area Blvd near Houston, Texas.
Spider Vein Laser Treatment

Spider vein laser treatment has improved and is currently utilized to alleviate the suffering of many victims of spider vein disease around the globe.
Spider veins on various parts of the body simply disappear when patients at Cosmetic Vein Centers of Texas receive the spider vein laser treatment provided by Dr. Skellenger.
Spider vein disease strikes its victims indiscriminately, but you can strike back with the spider vein laser treatment provided by Dr. Skellenger by calling today to make your appointment for a more positive future!
Vascular Surgeon

Vascular surgeon, Dr. Skellenger is board certified in vascular surgery and has been treating vascular disease for over 28 years. He has been involved in ensuring the revolutionized of the treatment of venous disease and has been making spider veins and vascular veins disappear in Houston and in all of his patients who visit him from near and far.
His reputation as a renowned vascular surgeon speaks for itself. Enjoy the freedom from spider veins and varicose veins that Dr. Skellenger has granted so many others with vascular treatment by calling Cosmetic Vein Centers of Texas today!
Click on the links in this article to learn more about the procedures available through our clinic and how your live can improve.

Schedule your appointment today to receive the safest, most effective and longest-lasting spider vein treatment or varicose vein treatment available by calling (281) 990-VEIN (8346).
Cosmetic Vein Centers of Texas
201 Blossom Street
Suite D
Webster, TX 77598

Phone: 281-990-VEIN (8346)
Fax: 281-990-9984

---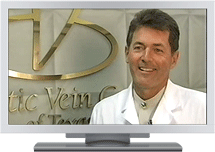 Informational Videos