Microphlebectomy: Effective and Minimally Invasive Venous Treatment
One of the many cosmetic procedures available today is called a Microphlebectomy, which is a treatment for varicose veins. Originally developed in Europe, Microphlebectomy is now very common in many areas of the United States. It is a minimally invasive procedure that is carried out through a puncture the size of a pinhole and permits the removal of most of the larger varicose veins; similar to a traditional office procedure performed under local anesthesia.
Microphlebectomy is often used in conjunction with Endovenous Laser Ablation (ELT); this combination can provide an overall reduction in Telangectatias and spider veins without complete vein removal. It is usually part of a complete therapy program to eliminate unsightly and painful leg veins. Successful Micrphlebectomy can often completely treat varicose veins on the leg with little or no recovery time—this makes it a favorable alternative to vein stripping.
Post-procedure treatment may include:
During a one week post procedure follow up visit, Dr. Skellenger will check your incision.
Cosmetic Vein Center of Texas
Cosmetic Vein Center of Texas is a world-class treatment center in Houston. Dr. Skellenger has been treating vascular conditions such as varicose veins for over 25 years. A Board Certified Vascular Surgeon, Dr. Skellenger is an expert in ultrasound guidance techniques and can perform Microphlebectomy, as well as a range of other procedures, with minimal down time and hassle. Call the Cosmetic Vein Center at 281-990-VEIN (8346) and let Dr. Skellenger help you regain the beautiful legs you deserve painlessly.
Cosmetic Vein Centers of Texas
201 Blossom Street
Suite D
Webster, TX 77598

Phone: 281-990-VEIN (8346)
Fax: 281-990-9984

---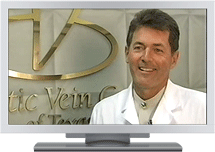 Informational Videos