Rosacea in Houston, TX
Rosacea is skin condition characterized by red rashes across the nose, cheeks, and neck. It is worsened by diet and sun exposure. At Cosmetic Vein Centers of Texas, we use a state-of-the-art, modern treatment for Rosacea – Genesis™ Rosacea Laser Treatment.
Laser Genesis™ is utilizes non-invasive laser treatment to treat skin conditions. The laser seals the microscopic red vessels that cause Rosacea, thus lightening your complexion and stopping the red flushing that is easily noticeable.
Our Genesis™ laser paints the face and neck with a warm soothing light like a warm compress. After several layers of treatments, many patients' skin becomes smoother and is rid of this embarrassing malady.
Many dermatologists have sent their most stubborn cases of Rosacea to our laser clinic in Houston for treatment. Patients have been very pleased with our results. Schedule a consultation with us today to find out more information about our Rosacea laser treatment.
Rosacea Pre Treatment Instructions
Remove all make-up before the laser treatment
Do not tan for two weeks before the treatment or two weeks after the treatment
Rosacea Post Treatment Instructions
A slight redness and warmth will last for approximately 30 minutes after each treatment
Make-up can be reapplied immediately
Cosmetic Vein Centers of Texas
201 Blossom Street
Suite D
Webster, TX 77598

Phone: 281-990-VEIN (8346)
Fax: 281-990-9984

---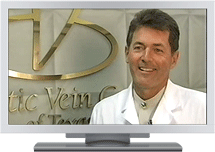 Informational Videos