Houston Varicose Vein Center Develops New Treatment for Varicose Veins
Dr. Mark Skellenger Eliminates Perforating Veins with Laser Therapy
Houston, Texas (Marketwire) May 20, 2009 – Over 25 million Americans are affected by varicose veins. Houston vascular surgeon Dr. Mark Skellenger of Cosmetic Vein Centers of Texas continues to make leading edge advances in the treatment of this painful and unsightly condition.
Perforating veins are a major cause of varicose veins when the perforators are incompetent. Failure of other vein procedures such as vein stripping or endovenous laser closure of the saphenous vein are usually the result of remaining perforating vein incompetence, keeping the varicose veins engorged and symptomatic. An article in the Journal of Vascular Surgery discussed changes in perforating vein reflux after varicose vein procedures. The article suggests perforating veins may reduce in size and become competent after eliminating the saphenous vein reflux.
In Dr. Skellenger's experience with primary varicose veins, he has found incompetent perforating veins to become significant after endovenous laser treatment of the saphenous vein. The reduction in the higher saphenous vein pressure following this treatment allows lower pressure perforators to reflux back to the superficial system. Incompetent perforators are quite often a major source of venous hypertension and may cause venous stasis ulceration in addition to varicose veins. The treatments for varicose veins associated with swelling of a leg and venous ulceration usually requires endovenous laser closure of the incompetent saphenous vein and closure of the incompetent perforating veins (Cockett's perforating veins).
"We are excited to offer our patients what we consider a milestone in medicine," stated Dr. Skellenger, a native Houstonian who trained in vascular surgery under Dr. Michael DeBakey. "These treatments can be performed outpatient, using a local anesthesia instead of general anesthesia. The overall process yields long lasting results and less trauma for the patient."
About Cosmetic Vein Centers of Texas
Dr. Skellenger of the Cosmetic Vein Centers of Texas is the first in Houston and one of only a few specialty Houston vein centers performing the revolutionary treatment for varicose veins. The native Houstonian completed medical school at Baylor College of Medicine in 1976, and has been in the practice of treating vascular disease since 1981. Dr. Skellenger is Board Certified in Vascular Surgery and has been a Fellow of the American College of Surgeons since 1984.
For more information, please contact:
Dr. Mark Skellenger
Cosmetic Vein Centers of Texas
(281) 990-8346
https://www.cosmeticveincenters.com
Cosmetic Vein Centers of Texas
201 Blossom Street
Suite D
Webster, TX 77598

Phone: 281-990-VEIN (8346)
Fax: 281-990-9984

---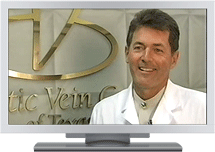 Informational Videos