Houston-Clear Lake Vascular Disease Specialist, Dr. Mark Skellenger, Offers Less Invasive Alternative for Varicose Vein Disease
Skellenger and the Cosmetic Vein Center, Changing the Way Varicose Vein Disease is Addressed
Houston (Clear Lake) - Leading vascular disease specialist, Dr. Mark Skellenger, offers patients a less invasive alternative to painful varicose vein removal - offering Endovenous Laser Ablation Treatment (ELT) and Microphlebectomy.
According to the renowned vascular surgeon, ELT corrects varicose veins without invasive vein stripping by heating the lining within the vein and causing it to collapse, shrink and eventually disappear - improving circulation in the leg as well as overall appearance.
The ELT procedure does not require general anesthesia and is performed in the office in less than 30 minutes.
Another minimally invasive procedure either used as a compliment to ELT or on its own to address bulging varicose veins is Microphlebectomy. This surgical procedure removes bulging veins through tiny openings, without sutures or scars.
"We are having great success with these minimally invasive alternatives to conventional varicose vein stripping. These procedures are safer and less painful than traditional varicose vein removal procedures, eliminate scarring and allow patients to resume normal activity immediately," said Dr. Skellenger.
"The laser procedures for both varicose and spider veins today have made their correction a simple in-office, lunch break procedure," added Skellenger.
Treating vascular disease since 1983 and among the first in Houston to offer ELT, Dr. Mark Skellenger is DeBakey trained and board-certified in Vascular Surgery.
Learn more about the services Dr. Skellenger offers at the Cosmetic Vein Center of Texas at www.cosmeticveincenters.com or call 281.990.VEIN (8346).
Cosmetic Vein Centers of Texas
201 Blossom Street
Suite D
Webster, TX 77598

Phone: 281-990-VEIN (8346)
Fax: 281-990-9984

---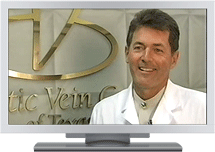 Informational Videos