Houston Vascular Surgeon Offers Treatments to Offset Aging
Botox® and Juvéderm® New In-Patient Services of Dr. Mark Skellenger
Houston, Texas (Marketwire) April 30, 2010 – There have been many advances in recent years for women who want to counter the effects of aging. Houston vascular surgeon Dr. Mark Skellenger of Cosmetic Vein Centers of Texas is pleased to announce a range of new in-patient treatments to minimize the effects of aging.
For treatment of severe frown lines between the eyebrows, the injection of Botox® has been proven to reduce lines and create a more youthful look. Over 11 million men and women have seen the benefits of the treatment, which works by blocking nerve impulses to the muscles in the brow area.
Another advance, which is gaining in popularity is an injectable gel called Juvéderm®, which has shown marked improvement on facial wrinkles. Juvéderm® is made of hyaluronic acid and the procedure takes just 15 minutes and instantly fills lines and adds natural volume to the chin and cheek area. The FDA approved gel provides results that last up to one year.
"Each patient ages differently due to the elasticity of their skin and other issues such as sun exposure and heredity," said Dr. Skellenger. "We are pleased to be able to offer the latest advances in anti-aging treatments in a comfortable office setting. Our goal is to meet the needs of each patients and create the most natural look possible."
Cosmetic Vein Centers of Texas has been a leader in the treatment of varicose veins and spider veins. Dr. Skellenger is Board Certified in Vascular Surgery and has been a Fellow of the American College of Surgeons since 1984. He was one of the first physicians in Texas to offer Endovenous Laser Therapy, a state-of-the art procedure which can be performed without general anesthesia.
About Cosmetic Vein Centers of Texas
Located in south Houston, Cosmetic Vein Centers of Texas specializes in the cosmetic treatment of veins and skin imperfections. Under the direction of board certified vascular surgeon, Dr. Mark Skellenger, the facility utilizes the latest, most advanced techniques for treatment of varicose veins, spider veins, face and nose veins as well as laser age spot removal and treatment of Rosacea.
For more information, please contact:
Dr. Mark Skellenger
Cosmetic Vein Centers of Texas
(281) 990-8346
https://www.cosmeticveincenters.com
Cosmetic Vein Centers of Texas
201 Blossom Street
Suite D
Webster, TX 77598

Phone: 281-990-VEIN (8346)
Fax: 281-990-9984

---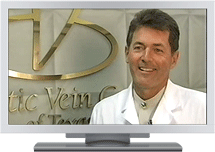 Informational Videos