Press Release: Monday April 24, 2006
Cosmetic Vein Centers of Texas Performs Endovenous Laser Therapy to Rid Patients of Varicose Veins
Houston, TX (PRWEB) April 24, 2006 -- There's renewed hope in Houston for sufferers of painful, unsightly varicose veins. Mark Skellenger, MD., F.A.C.S., is the leading surgeon at the Cosmetic Vein Centers of Texas, now on the Web at cosmeticveincenters.com, which offers patients a state-of-the-art procedure for treating varicose veins without the need for a hospital stay, general anesthesia, or even stitches. It's called endovenous laser therapy, and Dr. Skellenger is its foremost expert practitioner in the greater Houston area.
A Fellow of the American College of Surgeons, Dr. Skellenger is also board certified in vascular surgery; treating patients at the Cosmetic Vein Centers of Texas is not a part-time interest for him, but a full-time job. He trained with physicians in the procedure's clinical trials conducted by the FDA and he has been treating varicose veins with endovenous laser therapy since its approval. Dr. Skellenger has been performing vascular interventions since 1981.
Endovenous laser therapy is a minimally invasive surgery that treats all types and severities of varicose veins. The Cosmetic Vein Centers of Texas specializes in this particular treatment, and Dr. Skellenger has been performing it longer than any other Houston practitioner or clinic. "Endovenus laser therapy is a great advance for patients," says Dr. Skellenger, emphasizing the convenience of a treatment in which all procedures, from initial workup to the actual therapy, are conducted in-office. /p>
More astounding than the outpatient nature of endovenus laser therapy is that patients can literally walk home after the procedure. One of Dr. Skellenger's patients reports, "It's wonderful. I can walk four miles a day again. I've lost 15 pounds since the operation, and I can jog again. The pain is gone." And there's more good news for varicose vein sufferers like her; many insurance companies now cover endovenous laser therapy because it has become so well-established as a safe and effective treatment for varicose veins.
Dr. Skellenger now performs an average of two to three endovenous laser therapy procedures per day at the Cosmetic Vein Centers of Texas. New patients are excited to find an alterative to vein stripping, an older varicose vein treatment that entailed a long, painful recovery. "I have been waiting for something different to happen so I wouldn't have to have my veins stripped," said one of Dr. Skellenger's patients, thankful that her wait is finally over.
Dr. Skellenger is a member of the clinical faculty at the Michael E. Debakey Department of Surgery at Baylor College of Medicine. For more information regarding endovenous laser therapy for varicose veins, inquiries may be sent directly to Dr. Skellenger via his website www.cosmeticveincenters.com/contact.html or by contacting the Cosmetic Vein Centers of Texas at 281-990-VEIN (8346).
Syndicated and Featured on PrWeb
Cosmetic Vein Centers of Texas
201 Blossom Street
Suite D
Webster, TX 77598

Phone: 281-990-VEIN (8346)
Fax: 281-990-9984

---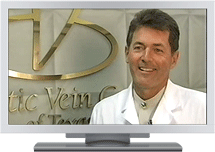 Informational Videos