Cosmetic Vein Centers of Texas: Monday May 05, 2008
Cosmetic Vein Centers of Texas Offering Endovenous Laser Treatment, ELT, a Milestone in Medicine
Dr. Skellenger the First Doctor to Perform ELT in Houston Area
HOUSTON – Dr. Skellenger of the Cosmetic Vein Centers of Texas is the first in Houston and one of only a few specialty vein centers in the Houston area performing the revolutionary treatment for varicose veins - Endovenous Laser Treatment, ELT.
ELT is now considered the leading laser treatment for varicose veins, and Dr. Skellenger, a board certified physician in vascular surgery, has now successfully performed nearly 700 minimally invasive ELT procedures in the treatment of varicose veins. The in-patient procedure does not require general anesthesia or an outpatient operating room.
While varicose veins are generally hereditary, they can be extremely exaggerated during and following pregnancy. They can also become more pronounced on those with careers or activities requiring long periods of standing. Also known as endovenous laser ablation, ELT is a new treatment for bulging and often painful and unhealthy varicose veins. The procedure entails a small laser fiber that is inserted into the saphenous vein, in order to seal the faulty vein and prevent reverse blood flow causing the varicose vein.
"We are excited to offer our patients what we consider a milestone in medicine," stated Dr. Skellenger, a native Houstonian who trained in vascular surgery under Dr. Michael DeBakey.
"Previously patients had to undergo vein stripping surgery to remove varicose veins, a very painful operation with many possible complications. ELT leaves no scarring and comes with lower risks, a shorter recovery period and lower compared to traditional vein removal procedures," added Dr. Skellenger.
Dr. Skellenger has specialized in the treatment of vascular disease since 1981 and today remains a clinical faculty member in the Michael E. DeBakey Department of Surgery in the Texas Medical Center. He is an expert in the percutaneous techniques using ultrasonic guidance – revolutionizing the treatment of venous disease.
Dr. Skellenger and his staff offer personalized treatment in a private, professional setting using the latest state-of-the-art technology in performing the outpatient procedures. He has been a Fellow of the American College of Surgeons since 1984.
To learn more about Dr. Skellenger and ELT, or to read patient testimonials, log onto www.cosmeticveincenters.com. Or, call 281-990-VEIN (8346) today.
Cosmetic Vein Centers of Texas
201 Blossom Street
Suite D
Webster, TX 77598

Phone: 281-990-VEIN (8346)
Fax: 281-990-9984

---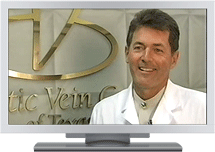 Informational Videos