Venous Disease Treatment
Venous disease treatment using the most effective, cutting edge technology is provided by the experienced vascular surgeon, Dr. Mark Skellenger at Cosmetic Vein Centers of Texas. Please call (281) 990-8346 to schedule your consultation for cosmetic treatment in Texas or venous disease treatment from our skilled surgeon who has been practicing vascular disease medicine for more than 25 years.
What is Venous Disease?
When an individual suffers from issues with veins that have become abnormal or diseased, this person is considered by the medical community to be suffering from venous disease. A moderate percentage of our adult population experiences some form of venous disease, however, when mild vein issues become more severe, they can cause pain, discomfort, embarrassing physically apparent symptoms and chronic venous insufficiency may result. Whether you are experiencing leg swelling, spider veins, varicose veins, phlebitis, leg ulcers, vascular malformations, leg pain or other related issues, you may have venous disease that requires treatment to prevent a worsening condition and to put an end to the suffering you may be experiencing currently.
Leg pain, burning, swelling, leg skin changes and even sores on the legs can all be symptoms of venous disease that may worsen with time if left untreated.
Texas Vascular Surgeon
Minimally invasive treatment options for venous disease are provided by our Texas Vascular Surgeon, Dr. Skellenger, at Cosmetic Vein Centers of Texas. Laser treatment for varicose veins and spider veins has been proven to be a safe alternative to older methods of treatment for vein disease and have dramatically reduced the recovery time process experienced by patients.
Please contact our friendly, knowledgeable cosmetic treatment and venous disease treatment medical staff by calling (281) 990-8346 to schedule your consultation with our experienced vascular surgeon who has been at the forefront of the medical technology development for treating people with various forms of venous disease since 1983.
You may also enjoy perusing the many pages of our website today to view additional informative articles regarding cosmetic treatment in Texas.
Cosmetic Vein Centers of Texas
201 Blossom Street
Suite D
Webster, TX 77598

Phone: 281-990-VEIN (8346)
Fax: 281-990-9984

---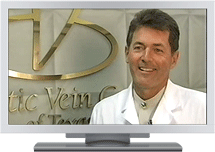 Informational Videos