Venous Disease Prevention Techniques

Venous disease prevention techniques are really proactive methods for reducing the acceleration of the progression of vein disease and for enjoying long-term results after having vascular vein treatments and spider vein treatments performed to remove unsightly veins that are also often uncomfortable and sometimes even painful.
When you schedule an appointment at Cosmetic Vein Centers of Texas you will enjoy fast relief from vascular veins and spider veins, allowing you to return home quickly and with the increased levels of comfort and confidence these advanced venous disease treatments provide.
Specialized Venous Disease Treatment
Dr. Skellenger will also discuss your personal medical condition with you, helping you to determine the best methods for preventing future issues with varicose veins and spider veins.
Your background, your experiences and your family history is unique to you. At Cosmetic Vein Centers of Texas, our Houston Vascular Surgeon provides the personalized levels of care individuals need to enjoy the most effective long-term results from venous disease treatment.
Some general factors that are well-known to increase the progression of vein disease include weight gain and regularly engaging in prolonged periods of standing still.
Getting the treatment that you need for varicose veins is extremely important as when these are left untreated, they will often worsen and sometimes lead to open wounds, tissue loss and blood clots.
Receiving both the advanced laser treatment provided (see venous disease laser treatment video) from our Bay Area cosmetic treatment center in Houston, as well as learning more about vein disease prevention techniques works as a sort of holistic vein treatment experience as our highly skilled and experienced physician Dr. Skellenger provides the essential care and information each specific patient requires to best benefit.
Thank you for visiting our Texas cosmetic care website and please call 281-990-VEIN (8346) today to discuss receiving the highly effective vein care treatments or other cosmetic treatments you need to increase the comfort and confidence you experience each day of your life.
Cosmetic Vein Centers of Texas
201 Blossom Street
Suite D
Webster, TX 77598

Phone: 281-990-VEIN (8346)
Fax: 281-990-9984

---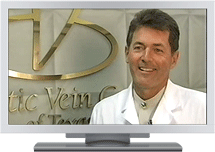 Informational Videos