Varicose Veins Treatment
Varicose veins treatment is a specialty of skilled Houston vascular surgeon Dr. Mark Skellenger. Find out more or schedule an appointment to meet with the doctor by calling 281-990-VEIN (8346).
We are devoted to the treatment of venous disease and skin imperfections and as such have developed a reputation for excellence that sends Cosmetic Vein Centers of Texas many referrals even from other medical practices for successful treatment of:
We use only the most advanced techniques that have been proven effective, combined with the latest technologies to ensure we provide the best venous disease therapies and skin imperfection corrections to our patients here in our Houston vein care clinic.
Varicose Veins Laser Treatment
The advanced laser treatment for varicose veins that Dr. Skellenger uses eliminates the need for removing the entire vein. A small laser fiber is inserted into the vein and seals the vein.
This advanced varicose veins treatment does not even require the need for any stitches following the procedure and thus creates absolutely no scarring.
Additionally, the dangers of general anesthesia are eliminated and patients are able to continue the majority of their usual activities immediately following the laser therapy.
Houston Vascular Surgeon
Call Cosmetic Vein Centers of Texas today at 281-990-VEIN (8346) to schedule your appointment to meet with Houston vascular surgeon Dr. Skellenger for a full evaluation to determine your precise treatment needs.
We will be happy to answer any questions you may have and hope that you are finding the many resources we have provided on our website to be informative and useful in making your decision to eliminate the negative effect of varicose veins on your life.
Cosmetic Vein Centers of Texas
201 Blossom Street
Suite D
Webster, TX 77598

Phone: 281-990-VEIN (8346)
Fax: 281-990-9984

---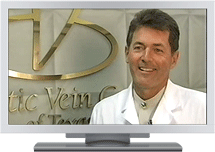 Informational Videos