Varicose Veins Disappear
Varicose veins disappear in Houston as more and more individuals with varicose vein disease visit Dr. Mark Skellenger at Clear Lake's premier vein clinic, Cosmetic Vein Centers of Texas. Bulging veins on the legs, called varicose veins are now a distant memory for Dr. Skellenger's patients.
The time for suffering from those unsightly varicose veins is over. Join the many others who have put their varicose vein struggles in the past by giving renowned vascular surgeon, Dr. Mark Skellenger's office a call at (281) 990-VEIN (8346) today!
You deserve to be free of embarrassing varicose veins. You can now accomplish this without even having to set aside time for a hospital stay. Don't even worry about the potentially harmful side effects of being placed under general anesthesia any longer, because this too, is no longer necessary.
Varicose Treatment

Varicose treatment no longer includes actual vein removal. The revolutionary, successful and even now time-tested venous treatment options provided by Dr. Skellenger make the entire varicose treatment process much more manageable. Patient down-time is dramatically decreased while patient convenience is exceptionally increased.
Take charge of your life now without hesitation and even improve the circulation in your legs by taking advantage of the state of the art venous laser treatment provided at Cosmetic Vein Centers of Texas.
Varicose vein disease strikes its victims indiscriminately, but you can strike back with the alternative varicose vein laser treatment provided by Dr. Skellenger.
Dr. Skellenger is board certified in vascular surgery and has been treating vascular disease for over 28 years. He has been involved in ensuring that venous disease treatment continues to be revolutionized so that more and more people can live happier, more comfortable lives free from the distressing effect of varicose vein disease.
Clear Lake Varicose Treatment

Clear Lake Varicose Treatment: Cosmetic Vein Centers of Texas is conveniently located on Bay Area Blvd for Clear Lake residents and those in surrounding areas to receive varicose treatment.
Clear Lake varicose vein laser treatment stops and prevents the pain, bleeding, swelling, clots and ulcers on the ankle that occur in victims of varicose vein disease.
Schedule your appointment today to receive the safest, most effective and long-lasting varicose vein treatment available by calling Cosmetic Vein Centers of Texas at (281) 990-VEIN (8346).
You deserve the freedom from varicose vein disease that Dr. Skellenger provides.
Cosmetic Vein Centers of Texas
201 Blossom Street
Suite D
Webster, TX 77598

Phone: 281-990-VEIN (8346)
Fax: 281-990-9984

---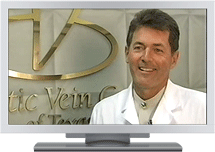 Informational Videos