Varicose Vein Laser Treatment
Varicose vein laser treatment is provided by Houston Vascular Surgeon, Dr. Mark Skellenger at Cosmetic Vein Centers of Texas and has eliminated the need for vein stripping to eliminate the discomforting effect of varicose veins on the body.
Please feel free to view the many informative pages of our venous disease treatment center website or simply call (281) 990-8346 today to discuss your need for treatment or to schedule an appointment.
At Cosmetic Vein Centers of Texas, the following cosmetic services are provided:
Laser Treatment for Varicose Veins
Vascular Disease Treatment
Spider Vein Treatment
Botox Cosmetic Treatments
Juvederm Injectable Gel
Laser Age Spot Removal
Laser Treatment for Rosacea
Using the most effective, latest technology that helps to increase the comfort of patients during the procedures, as well as after the procedures have been completed in order to minimize downtime is standard practice at Cosmetic Vein Centers of Texas.
Receiving Treatment for Venous Diseases in Texas

Pain, embarrassment and discomfort are all experiences associated with venous diseases; however, through the ELT and Microphlebectomy treatments offered at Cosmetic Vein Centers of Texas, help is received to improve the day-to-day life of our patients.
Receiving these safe laser treatments for varicose veins commonly lifts the restrictions placed on the life of individuals with venous diseases as these cosmetic treatments open the door for participating in activities that were formerly avoided and for once again wearing clothing that could not be worn without extreme insecurity.
Since 1983, Dr. Skellenger has played a significant role in helping improve the lives of many as he worked to improve the treatment process and increase patient comfort while receiving cosmetic treatment in Texas.
Please call (281) 990-8346 today to receive the experienced medical care you need when suffering from varicose veins, spider veins, Rosacea or to discuss receiving treatment for any of the other above-mentioned cosmetic treatment services available at Cosmetic Vein Centers of Texas.
Cosmetic Vein Centers of Texas
201 Blossom Street
Suite D
Webster, TX 77598

Phone: 281-990-VEIN (8346)
Fax: 281-990-9984

---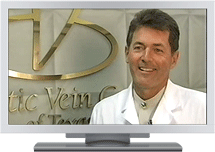 Informational Videos