Varicose Treatment: Remove Spider Veins
Varicose treatment: Remove spider veins from your life by contacting Clear Lake's premier vein clinic, Cosmetic Vein Centers of Texas.
Add yourself to list of the many victims of varicose disease around the nation who have been helped to live happier, more comfortable lives, by calling Dr. Skellenger's clinic at (281) 990-8346.
Laser treatments to remove both varicose veins and spider veins, while eliminating pain and embarrassment that these cause are delivered by Dr. Skellenger.
Spider veins are the reddish, bluish and sometimes purple groupings of veins that can occur anywhere on the body. However, these often choose the most visible spots to appear, such as the nose, chin and cheeks. The legs are commonly affected by spider veins and varicose veins as well.
Houston Varicose Laser Treatment

End your suffering now by contacting Cosmetic Vein Centers of Texas to receive a varicose laser treatment, which is now revolutionized to be as convenient and safe as possible for all of Dr. Skellenger's patients.
The uncomfortable hospital stay is no longer necessary, but rather this varicose laser treatment is performed in an outpatient method at our clinic. General anesthesia is not used for this procedure either, which makes many feel more comfortable with receiving varicose treatment in these modern times.
Varicose laser treatment has even eliminated the need for the actual vein removal that was previously your only option for ridding yourself of those troublesome varicose veins.
Feel confident that you are receiving only the best care when you visit Cosmetic Vein Centers of Texas. Our Dr. Skellenger is board certified in vascular surgery and has been treating vascular disease for over 28 years.
He has been a leader in ensuring that the treatment of venous disease was revolutionized and as such has the superior ability to assist his patients in receiving their freedom from the distressing effect of spider vein disease and varicose vein disease.
Schedule your appointment with Dr. Skellenger today to receive the safest, most effective and long-lasting varicose treatment to remove spider veins available by calling Cosmetic Vein Centers of Texas at (281) 990-VEIN (8346).
Cosmetic Vein Centers of Texas
201 Blossom Street
Suite D
Webster, TX 77598

Phone: 281-990-VEIN (8346)
Fax: 281-990-9984

---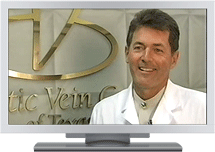 Informational Videos