Varicose Treatment for Face and Nose Veins in Houston
Varicose treatment for face and nose veins is preformed by Dr. Mark Skellenger at Clear Lake's premier vein clinic, Cosmetic Vein Centers of Texas.
Beat varicose vein disease by calling vascular surgeon, Dr. Skellenger's clinic today at (281) 990-VEIN (8346) to schedule an appointment that will help you live the more comfortable lifestyle you deserve.
Unsightly veins on your face and nose can be an embarrassment to leave behind in the scrapbooks to look at only when you feel like seeing the before and after pictures to remind yourself how great you look now. Give Cosmetic Vein Centers of Texas a call and experience the change you desire.
Spider Vein Treatment in Houston

Spider vein treatment in Houston is achieved by a revolutionary laser treatment that combats the effects of spider vein disease like putting an eraser to your skin.
Spider veins are the reddish, bluish and purplish groupings of veins that can occur anywhere on your body, but most often occur on your nose, chin, cheeks and in various locations on your legs.
You may have thought that you were to be victimized by these spider veins for your entire lifetime. This is no longer true because now there is a solution for spider vein disease.
Your spider vein solution is achieved by contacting Cosmetic Vein Centers of Texas. Click on the links in this article to learn more about our clinic, our services and about renowned vascular surgeon, Dr. Mark Skellenger.
The harsh effects of venous disease have been removed by Dr. Skellenger for over 28 years. He has the superior ability to assist his patients in receiving their freedom from the distressing effect of spider vein disease and is ready to assist you today!
Contact Cosmetic Vein Centers of Texas, which is conveniently located on Bay Area Blvd for Clear Lake spider vein treatment, varicose vein treatment and more.
Dial (281) 990-VEIN (8346) to schedule your appointment to receive the long-lasting, effective and safe varicose treatment for your face and nose veins in Houston, or for any other venous disease you may be suffering from.
Cosmetic Vein Centers of Texas
201 Blossom Street
Suite D
Webster, TX 77598

Phone: 281-990-VEIN (8346)
Fax: 281-990-9984

---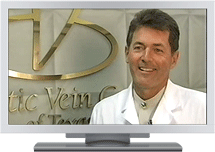 Informational Videos