Unsightly Veins- Pretreatment and Post Treatment Instructions
One of the most important parts of laser varicose removal and spider vein removal is not the actual surgery, but it's what you do both before and after the surgery. The measures you take pre and post surgery can help determine the success of the surgical procedure. The technology today is sophisticated enough that you can be free of unsightly veins, but you must do your part in preparing and recovering from the vein removal.
Pretreatment Preparation

There are several necessary pretreatment instructions you must follow if you are undergoing spider vein removal. First, it is important that you do not use lotion on your legs or face before the procedure. Secondly, you should not expose the area to excessive sunlight or tanning beforehand. Areas that have been recently tanned or sunburned will require a rescheduling of the procedure. Also, the skin in the area should not be broken or infected. If the surgical area has a cut, this will warrant a rescheduling. Lastly, when you arrive for spider vein removal you should have a pair of shorts on hand.
For varicose veins, the latest procedure is laser varicose removal. When preparing for this treatment, there are several things you must keep in mind. Most importantly, you should not use Advil, Aleve, Ibuprofen, or any other blood thinners in the 5 days leading up to treatment. As is the case with spider vein treatment, you should avoid exposure to sunlight and tanning. These can both complicate the procedure. Antibiotics will also be prescribed for you, and a sedative is available for those that require it.
Post Treatment Guidelines

After your spider vein removal procedure, there are a few instructions you should observe. First, a compression hose will be worn for only a week, if necessary. Second, you should wash the area with a mild soap and water twice a day. Take extra care when doing this to not scratch or irritate the skin. The area will be very delicate so you should treat it as such. You should never rub or scratch the affected area. Lastly, you will be scheduled for a follow up a month after the procedure. This follow up will determine the effectiveness of the procedure at removing unsightly veins and your progress thus far.
The post treatment instructions for laser varicose removal of unsightly veins are quite simple. Immediately following the procedure, compression dressing will be in place. Any normal activities can be resumed immediately, and you can begin exercising after just one week. No prescriptions are required, just Advil for any potential mild discomfort. In short, laser varicose removal is a fast and effective treatment for the removal of unsightly veins.
Cosmetic Vein Centers of Texas

Dr. Skellenger, of Cosmetic Vein Centers of Texas, has been successfully treating vascular disease since 1981. In these 27 years, Dr. Skellenger has earned a reputation as an expert in the removal of unsightly veins. He has made spider vein removal and laser varicose removal as minimally invasive as possible and increased recovery times drastically during this tenure at Cosmetic Vein Centers of Texas. Contact Cosmetic Vein Centers of Texas or call today at 281-990-VEIN (8346).
Cosmetic Vein Centers of Texas
201 Blossom Street
Suite D
Webster, TX 77598

Phone: 281-990-VEIN (8346)
Fax: 281-990-9984

---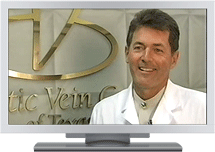 Informational Videos