Houston Vascular Surgeon: Expert in Venous Disease Treatment
Houston vascular surgeon, Dr. Skellenger is an expert in venous disease treatment and is located in the Clear Lake area at Cosmetic Vein Centers of Texas.
Your varicose veins and spider veins will become invisible when receive outpatient treatment at Clear Lake's premier vein clinic, Cosmetic Vein Centers of Texas.
Are you suffering from bulging veins on your legs that make it difficult to wear any clothing item you would choose? Do veins on your nose and face make you uncomfortable with your appearance on a day-to-day basis? Through much easier methods than previously existed, Dr. Skellenger, can help to alleviate your stresses.
Even the circulation in your legs will be increased through revolutionary laser venous treatment that has been helping many across the country.
Vascular Surgeon : Varicose and Spider Vein Treatment
Houston vascular surgeon, Dr. Skellenger is board certified in vascular surgery and has been treating vascular disease for over 28 years. He has been involved in the revolutionizing of the treatment of venous disease and has the ability to assist his patients in receiving their freedom from the distressing, often painful effect of varicose vein disease and spider veins.
Make your suffering from those unsightly varicose veins or spider veins a thing of the past! Now, you can even rid yourself of this burden without the uncomfortable hospital stay. Even the potentially harmful side effects of being placed under general anesthesia are no longer necessary when you visit Cosmetic Vein Centers of Texas.
Call today to make your appointment!
Varicose vein laser treatment has eliminated the need for the actual vein removal providing patients with the increased confidence to move forward with a much more comfortable lifestyle.
Varicose vein laser treatment prevents the pain, swelling, bleeding, clots and ulcers on the ankle that occur in victims of varicose vein disease.
Schedule your appointment today to receive the safest, most effective and long-lasting varicose vein treatment and spider vein treatment available by calling Cosmetic Vein Centers of Texas at (281) 990-VEIN (8346).
Cosmetic Vein Centers of Texas
201 Blossom Street
Suite D
Webster, TX 77598

Phone: 281-990-VEIN (8346)
Fax: 281-990-9984

---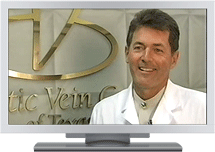 Informational Videos