Get Relief for Facial Age Spot Removal
What is an Age Spot?
An Age spot is evidence of overexposure to sunlight. It usually occurs on the neck and face, as well as on the back of hands. Age spots are sometimes referred to as liver spots, even though they have nary a thing to do with the liver.
What are the causes of an Age Spot?
The name age spot is misleading, because an age spot may occur in the 30s as well as later on in life. Areas of the skin that have been over-exposed to sunlight are consequently damaged leaving what is known as age spots on the skin. The increased pigmentation may be brought on by exposure to sun, other forms of ultraviolet light, or other unknown causes.
Natural Aging – An age spot is often associated with aging. As the human body ages, the skin gets thinner, thus increasing the visibility of age spots.

Overexposure – An age spot is brought about by overexposure to sunlight.
Treatments for an Age Spot
The best form of treatment for age spots is prevention: proper use of sunscreen and limited sun exposure. However, if you have age spots, you can get treated at a Houston vein center with one of the following methods:

Chemical Treatment
There are some effective chemical treatments for age spots, including but not limited to the following:
Trichloroacetic acid – This procedure is also known as a chemical peel.

Tretinoin – Tretinoin, a vitamin A derivative, can be used in a combination with Mequinol for facial age spot removal.

Cryotherapy – This involves gentle freezing of skin, mostly by using liquid nitrogen.
Laser Age Spot Removal Treatment
Laser treatment is one of the most effective forms of age spot removal. It's typically more effective than cryotherapy and has far fewer side effects. Laser treatments are less damaging to the skin because light is used to selectively remove the pigment without bruising the surrounding skin. Not to mention that there's less pain involved and less healing time required to recover from laser treatments.
For More Information:
At the Cosmetic Vein Centers of Texas, we are devoted to the cosmetic treatment of veins, age spots, and other skin imperfections. Dr. Mark E. Skellenger, the Board-certified vascular surgeon at our Houston vein center, uses the latest advanced techniques and state-of-the-art equipment to offer the best skin therapy in town. For laser age spot removal, Texas residents can take relief in, call us today at 281-990-VEIN (8346).
Cosmetic Vein Centers of Texas
201 Blossom Street
Suite D
Webster, TX 77598

Phone: 281-990-VEIN (8346)
Fax: 281-990-9984

---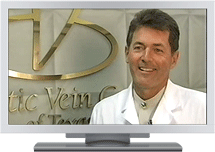 Informational Videos