Endovenous Laser Ablation
As things begin to heat up here in the Lone Star State, coats and pants will be replaced by T-shirts and shorts. For those with unsightly veins, summer in Texas can be a nightmare. However, with the technological advances in endovenous laser ablation, veinless legs can be a reality.
The great saphenous vein that runs along the inside of the thigh and down the leg can be susceptible to developing varices. These varicose veins can be an eyesore to those that deal with them, and they will often do whatever is necessary to cover them up. Unfortunately, the effects of varicose veins extend far beyond aesthetics.
Varices on a saphenous vein can create a condition in which the leg becomes inflamed, heavy and full of pain. Varicose veins create a level of discomfort that can be unbearable for some. It makes simple tasks, such as walking around a grocery store, a nearly impossible chore. People with severe varicose vein afflictions have difficulty making it through an entire day as the pain forces them to the sidelines.
Endovenous laser ablation is a relatively painless alternative treatment to the highly invasive surgical stripping procedure. This minimally invasive process uses a laser to seal off damaged veins, thereby diverting the blood flow to healthy, operable veins. The procedure is so pain free that it does not require the use of anesthesia.
In addition to the pain free nature of endovenous laser ablation, this process boasts lower recurrence rates than tradition surgical stripping. Patients are more likely to recover faster and stay pain free longer. In short, the efficacy of laser varicose removal is higher than its predecessors.
For those suffering from an enlarged saphenous vein, consulting with a professional about endovenous laser ablation is a good idea. The minimally invasive procedure can produce pain free, veinless legs that can be showed off during the summer.
Dr. Skellenger, of Cosmetic Vein Centers of Texas, has been successfully performing endovenous laser ablation for many years. Since 1981, Dr. Skellenger has earned a standing as a specialist in the elimination of unsightly veins. His minimally invasive procedures increase recovery times and lower recurrence rates. Contact Cosmetic Vein Centers of Texas or call today at 281-990-VEIN (8346).
Cosmetic Vein Centers of Texas
201 Blossom Street
Suite D
Webster, TX 77598

Phone: 281-990-VEIN (8346)
Fax: 281-990-9984

---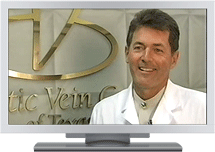 Informational Videos