Dysport®
An easy, simple, in-office cosmetic treatment, Dysport® is a popular and one of the most effective ways to treat facial wrinkles that are caused by excessive facial tension.
Cosmetic Vein Centers of Texas is your Dysport® specialist in Houston. Renowned vascular surgeon, Dr. Skellenger, uses Dysport® (onabotulinumtoxinA), a revolutionary Dysport® injectable that reduces the appearance of frown lines between the eyebrows. The muscle activity causing these facial lines between the eyebrows is reduced with this innovative cosmetic treatment.
The Difference between Botox and Dysport®?
Both Dysport and Botox are made from Botulinum Toxin Type A and both smooth will result in a smoother face with less wrinkles. However, Dysport is 1/3 the cost of Dysport and results can be seen in as few as 24-48 hours, compared to 4-6 days with Botox.
Dysport® Treatment
When you schedule an appointment to meet with skilled cosmetic vascular Surgeon, Dr. Skellenger at Cosmetic Vein Centers of Texas, he will discuss your current and previous medical conditions with you to ensure that you may safely receive this non-invasive cosmetic treatment in Houston.
After receiving Dysport® treatment, you will experience beautiful, noticeable results that will make you look younger and fresher – eliminating the facial lines between the eyebrows.
Cosmetic Surgery: No Need for Surgery with Dysport®!
Successful facial line reduction results vary, however, this minimally invasive Dysport® treatment injection has been proven to deliver lasting effects for up to four months. As these cosmetic treatments work underneath the skin, there is no effect to the pigmentation, or color of your skin. Your cosmetic physician will discuss any possible side effects with you as he reviews your medical history.
Fast, affordable Dysport® treatment in Houston only approximately 10 minutes to complete. Patients may experience minimal discomfort, but there is generally no downtime for patients.
Call Cosmetic Vein Centers 281-990-8346 for friendly, knowledgeable assistance with any of your questions regarding receiving Dysport® care.
Cosmetic Vein Centers of Texas
445 Bay Area Blvd.
Houston, TX 77058

Phone: 281-990-VEIN (8346)
Fax: 281-990-9984

---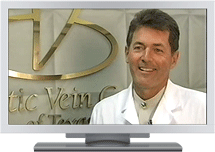 Informational Videos